SEO for Bloggers - Myth v. Fact
A couple of weeks ago, I shared some ways to easily make your blog SEO friendly with you. There, I admitted that SEO came last for my blog here and I'm realizing more and more everyday how much of a mistake that was.
More recently that point hit home with me. A blogger friend of mine emailed me with a long list of SEO questions. In it I saw that she had probably spent hours reading about SEO online. She had also found a lot of good information. But about half of what she shared was a bunch of misleading info. A.K.A. a stack of lies.
Shortly after that I also had a discussion with a local marketing director about how spammy SEO agencies have become. It's a relatively new field that makes a big impact for online businesses. So it easy to see why they would to want to capitalize on SEO.
Nine SEO Myths to Consider if You're a Blogger
Again, I've worked at both a small-time SEO agency and have been a new blogger reading about all the "quick ways to succeed" in terms of rankings. From the experiences I have assembled a list of the top SEO myths bloggers may run across.
I found all of these myths from Quora, LinkedIn, and from personal discussions I've had with other bloggers. They also contain some awesome information that I should have admittedly considered before launching my own site here.
Myth 1: If I update my homepage weekly my rankings will improve
Many believe that if they make minor tweaks to their homepage, a menu design change here, a new intro paragraph, there, they'll be sending signals to Google that they have regular new content. That's true. Updating your site is definitely good and search engines do look to see that you're adding new valuable information on a regular basis. The keyword word being valuable.
If you are adding looking to make some changes, definitely try and make them informed. Change for change sakes won't get you far. It will also fall below the radar of search engines.
If you can make design tweaks that help your readers stay on your site longer or make finding your posts easier, then go for it! Otherwise, if you're looking to tell Google that you're adding regular new content, consider making your posts that source of new content. That way you're giving both search engines something and your readers something. Plus, your posts are by far the best way you can add value to your blog!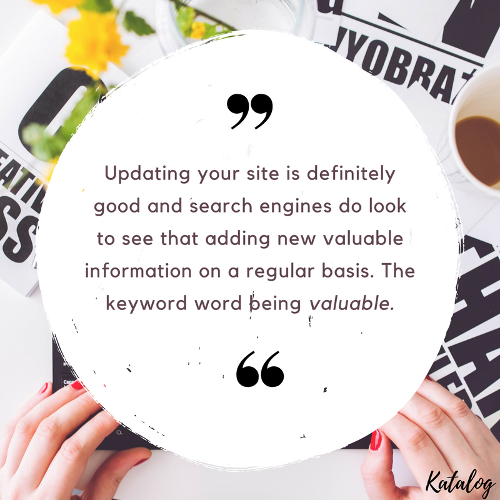 Myth 2: I should buy inbound links
Apparently people out there are suggesting that inbound links are typically bought. If you're a new blogger, and you run across advice to buy links that go back to your site, please walk away from that source. Here is why: you don't want spammy sites linking back to you.
Search engines consider the source of your inbound links when they determine your rank. That's why the best sources of inbound link are natural. It should come from those who think your site is relevant and valuable to their readers. Then, they will link to you for free.
A friend of mine was apparently offered a link back to her site in exchange for $75! That's a week worth of groceries in my book. I couldn't believe that someone was asking that much for something that has no guarantee of actually helping a site rank. What if no one follows that link?
What if search engines hate the site offering the link? What if the link gets buried under the noise of new content on that site? There's just no way you can guarantee that one link will provide value unless, of course, it's coming from a major player like Moz or Amazon or some other dreamlike referrer.
Myth 3: My footer doesn't matter
Footer's are often considered an afterthought. I get it. I hate footers. They are a pain to code and the info there is often considered irrelevant.
Consider this though! Footers can be a great way to add additional navigation to your page (more links!) and to place your blog's name, phone number, and email address (A.K.A your NAP). NAP is your name, address, phone number and search engines love seeing it displayed consistently across your site.
Myth 4: Just create good content and you will rank
I would be in heaven if this was true. Content is the thing I put the highest value in. Still, you need to do more.
Every piece of the digital marketing puzzle matters. So while I would personally love to just write content here, I have to consider my site's user friendliness, my on-page SEO efforts, social media marketing, being active in the blogger community, etc, etc.
Myth 5: Social Media Marketing doesn't matter.
Again, every piece of the digital marketing puzzle matters. Without it you can't achieve that perfect picture you want. So even though social media marketing requires putting yourself out there, it can help you a ton!
Social media marketing can help send what are called social signals to search engines. These signals say "hey, people like this site! It must be relevant and reputable. Let's rank it higher." It's also an excellent acquisition tool. It can help you bring in that traffic, find your audience, and hook them into visiting your site.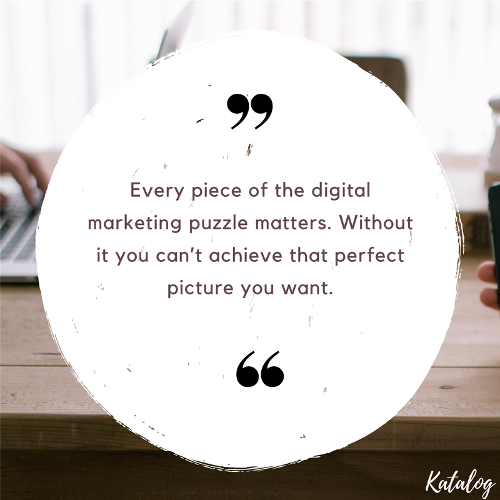 Myth 6: The No. 1 Ranking on Google can be guaranteed.
If someone says this, run! This is the number one sign of a scammy SEO agency.
Instead, do your own SEO. If you reach a plateau in your results, then consider an agency worth their salt. I can tell you that the agency that can get you results won't be saying "We can get you listed as the number one ranking site in your market."
Myth 7: I'll start seeing major results right away
SEO is a marathon. It doesn't take one month to start seeing the results you want. Still, slow and steady efforts can really pay off! So try and just focus on solid efforts that will help you achieve your dream over time.
Myth 8: All you need to do is implement on-page SEO
On page SEO is an excellent starting point! You can also start right away. Still, it can help you even more if you also get involved in your community (among other things).
You can start by building genuine online relationships. You can try it out by helping to promote other bloggers and not expecting anything else in return. Soon, you'll find that people will naturally start promoting you in return without you even having to ask.
Myth 9: Well researched content is all that matters.
It matters a lot! But you can also make your content even more awesome with a few nuanced details. The main idea is that your content should also be skim-able .
That's where bullet points, numbered lists, and bolded key points can really help. Plus, you can keep those paragraphs short and easy to digest.
If you ever want more tips on how to make your posts more readable, this SlideShare from Ann Handley helped me a lot as a new blogger! It still holds up, I swear.
How to Continue Improving Your Blog's SEO
Now that you have these nine myths busted, it's time to start hitting the keyboard to make your blog more SEO friendly. To help, I'm giving away my very first eBook. You can download it here to see how you can empower yourself as a blogger. You don't need an agency or the myths out there online.
This eBook will outline what you can start doing today to get the rankings you want in a way that will help your blog continue to grow.