Finished Project - The Jasmine Scarf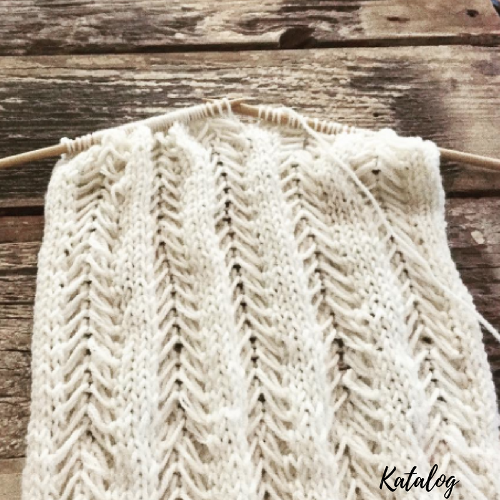 Remember way back when I declared my knitting goals? Well, it's May and I've done next to nothing still! Good thing I still have seven months to finish these projects, right? I guess I'll be a summer knitter this year (weird).
If you follow me on Instagram, you may have already seen that I was able to finish the jasmine scarf though. Which, was probably the most intimidating project I've taken on since becoming a knitter. Taking it off the needles, after starting it back in January, was a huge moment for me. It felt like I had finally proven myself as a knitter. I am officially someone who can follow a pattern, tackle a finger weight project, and make something that is a bit more complicated than a ton of garter or rib stitches.
How I Made the Jasmine Scarf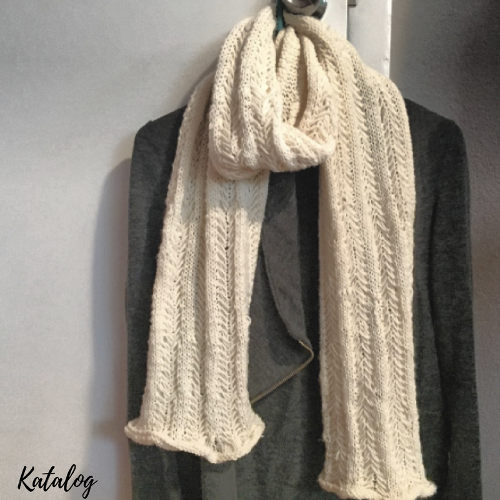 To start with, I found the English version of the scarf pattern over on Purl Soho.

The pattern calls for Flax Down yarn. After an awful experience with pilling about a year ago, I decided to go with a cotton yarn from Lion Brand. I ordered six skeins and I went through three of them for the project

I sat down and conquered the six rows of stockinette stitch without a hitch

Then, I had to continue in stitch pattern. I messed this up about five times and had to start over each time. Incase you're prone to mistakes like I am, I definitely recommend watching the video on stitch pattern! It helped a ton! That is once I had the patience to watch it all the way through.

I then continued stitch pattern while watching Netflix, at the ski lodge, while listening to podcasts, and while bingeing on Sex and the City.

In the end I made my scarf about two feet longer than the pattern calls for. I have a preference for longer scarfs that I can tie in multiple ways. So I used one of my favorite long, silk scarves to help me gauge when to start the final six rows of stockinette stitch before binding off.

I was finally able to weave in my ends and cut off the remaining tails of yarn a couple of weeks ago!
All in all, it took me four months to complete the jasmine scarf. In reality, it really only should have taken me one. I just ended up taking lots of breaks while tackling some personal and career obstacles this year. The good news is that I've made it past both those setbacks and my victory nearly coincided with the day I was able to take the scarf off my needles.
Now, I've been finding myself wearing the scarf any chance I get. Thankfully, the weather has been a bit colder than usual here in Portland affording me tons of opportunities to show off my new garment. I was a little worried that it would be too hot to wear it until September!
Now that there are more sunny skies though, I'm trying to decide on what to make it next. It's between the Speckled Shrug or the the Knitted Floor Mat. Which one do you think I should go with? Let me know in the comments guys!