A Simple Way to Decorate Your Front Door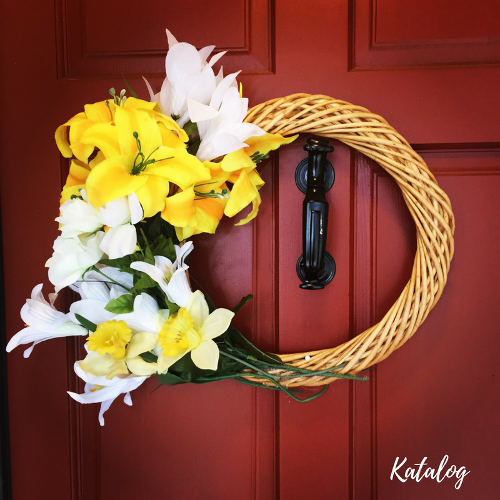 Normally, I am fine just eating out every night and coming home to a book or new episode on Hulu of 'This is Us.' Now though, with my new intentions, DIYs are taking over my nights (and my bank account). It's a kick I picked up in high school/college and it feels good to get back to it again honestly.
I got into DIY'ing from reading blogs actually. I loved the projects that were featured on Lana Red Studio and Design*Sponge. But back then I only ever took on sewing projects that I could easily do in my bedroom or dorm. Now, I have a whole house, not to mention a garage, to help me get a little more ambitious.
A couple of weeks ago I got my DIY fix in by creating a wreathe for my front door. I have a red door, so as much as I wanted a wreathe filled with light pink or blue flowers, I decided to go for some colors that complemented the bold color I already have.
A trip to Scrap PDX helped me find some vibrant yellow and white silk flowers. Plus, they had a whole selection of straw, moss, and wire wreathes to put the flowers on. I grabbed a thick straw wreathe, my bouquet of flowers, and a glue gun all for just $14.00 - which is why a trip out to Scrap is so worth it! I took my haul back home and got to work the next morning while I was on vacation.
How to Make a DIY Wreathe
I covered my coffee table with some trash bags
Then, I laid out my flowers and the plain straw wreathe I had bought.
I plugged in my glue gun and loaded it with a fresh glue stick.
I grabbed the biggest bunch of yellow flowers and glued the wire stems so they curved along the left side of the wreathe. My goal was to make it look as if they had grown up the straw wreathe like ivy does.
I did the same with the rest of the flowers, making sure there was a solid balance of white and yellow. I held the stems to the glue for about 20 seconds to a minute each time I placed them on the straw.
I then let everything dry for about 10 minutes while I went and played with my dog.
Then, I took the wreathe and centered it above the door knocker on my front door. I pushed a nail through the straw wreathe so the nail was hidden and them hammered it into the door just enough to secure my new decoration. I did the same for the bottom of the wreathe as well.
That's all it took! Just seven steps and about 40 minutes of crafting. I honestly wish the project had taken longer because I still had a whole morning in front of me.
For this project, I definitely recommend taking on a little tip from Gretchen Rubin that I got from an episode of her podcast. It's called practicing mise en place. The goal is to gather up all your crafting materials before you start your project.
It was a huge help for me to have a clean workspace with trash bags covering my coffee table and to have all my materials right there waiting for me. That way, I didn't have to scramble for any supplies and could just focus on the placement of my wire flowers. It's definitely worth a try to practice mise en place during your next DIY too!
I can't wait to hear in the comments what you're working on this week as well. Thanks for reading guys.