My DIY Bedroom - Easing My Mind with Home Projects
Whenever I have to make a huge transition in my life, I get that pit in my stomach signaling a surge of anxiety. Somehow, the surge never calmly flows. It only ebbs in powerful waves, seeming to land right on my gut. Do you know that feeling?
To help, I took on a few projects around the house last week. Doing something with my hands always seems to help distract my mind. Plus, the creativity infuses me with the positivity that comes with creating something new. You could say that it gives hope when something beautiful can come along from just a spark of inspiration and a little bit of work.
Creating My Own Space At Home
The first project I tackled had a couple different purposes. First of all, I was having a hard time finding a place in my home that was all mine. I do have one corner of my bedroom that seems to be allocated just for me though. To make the most of that space (about 28 sq. ft), I decided to completely redo my set up.
I had started by trying to install a curtain rod to hang my clothes on. I had seen the picture above and just loved how clean it looked. In reality….Let's just say it was a bad idea.
I had installed the rod with wall anchors and screws. Little did I know I should have used studs (Thank you Home Depot guy for the tip!). So when I put my clothes on the rod, it fell straight out of the wall. Wonderful. This was reason number two I needed to paint.
Cue a trip to my neighborhood Home Depot. I drove down the street and I bought paint, spackling, and a wool paint brush roller to accommodate the rough texture on my wall. I had been trying to find a color that would go with the pale green walls we have here. Earlier, I was going to go with a magenta. But then, I found a color called Glitterati from Behr. I mean, since I was decorating a space meant just for me, why not go for a color called Glitterati, right?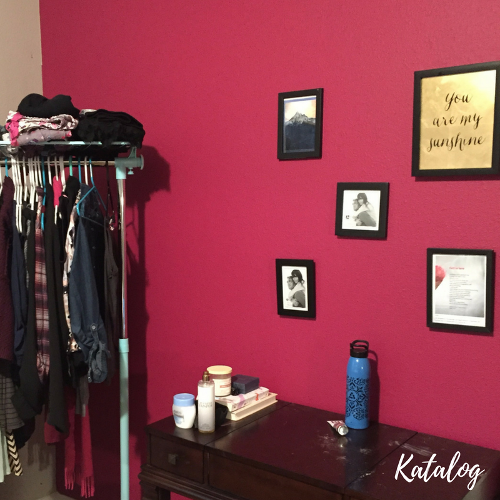 Step 1: Painting
It took me just one day to paint the wall including all the taping and preparation. I definitely recommend getting a paint roller made of wool by the way! I had painted three other walls in the house with a foam roller and I couldn't get the paint even to save my life. A friend of mine had to step in actually to fix one wall I had attempted. , soif you're like me and haven't painted a lot, just start with the slightly more expensive wool roller. It was a breeze to use and the paint was completely even.
Step 2: A DIY Garment Rack
While I waited for the paint to dry, I also went to Fred Meyer and grabbed some light blue Krylon spray paint. I had given up on my curtain rod idea, and went to to Bed, Bath, & Beyond to buy a simple garment rack. It came to around $24.00 and the spray paint was about $10.00 for two bottles.
I hated the black color of the garment rack because a lot of my furniture is already dark. I have a brown vanity/desk and a brown mirror with a black night stand. None of these dark colors were intentional either! We just couldn't find white or tan wood furniture like we had originally imagined. Instead, thanks to a mixture of lazy shopping and gift giving, we ended up with mix-matched furniture in dark shades. Oh well!
To help bring some light to my space though, I wanted my garment rack to be a little brighter to help make my space seem happier. So I laid out a paint tarp in the garage, pulled on my safety mask, and got to spray painting all the black parts of the garment rack. The project was oddly cathartic and a lot more difficult than I had imagined. I had to to get all the little nooks and crannies of the rack while also avoiding drip marks.
I'd say I did a fairly good job. I'll admit, there is a drip mark at the back of the rack. But hey, it's only in the back! The project took 24-hours. Yet, it probably only took that long because I had never used spray paint before. I probably did three coats of paint and used the entire two bottles of the spray paint.
Step 3: Putting it all Together
The end result is beyond my expectations. I never thought that I could install anything using wall anchors. Granted, the project was a failure, I was still able to screw those anchors in and install a rod , soI'm calling that a success as far as first projects go. I also never, ever thought that I could paint a wall on my own. Let alone do it well.
The space now makes me excited to enter my bedroom every day. It has personality, it's pretty, and it makes the room feel like my own personal haven.
I'll save the final DIY project from last week for my next post. For now, I'd love to hear in the comments what home DIY projects you have taken on or have planned for the future!